Today, I am showing you how I made the Japanese House Garden scene that you've seen from my Nendoroid Sakura Miku: Bloomed in Japan photos.
I googled inspirations and analyze if I can pull it off with the materials I currently have. I always want to take photos of my figures in 'engawa' or Japanese porch/veranda.
(Photo credit to respective owners)
I have built a Japanese room  before and I'm sure you've seen this one in my past works and workshop. (See Photo of Madoka)
The Bamboo Fence
Materials:
Sushi mat (made of bamboo sticks) – available at Daiso or Japan Homes stores. I bought mine from a surplus that's selling various Japanese Home items.
Glue, cutting pliers, tape
The bamboo fence will help block distractions in the background and would focus on the garden.
The Garden
Materials:
Fake grass
decorative stones
artificial flower / plants
foam board or ply wood for the base
Most of the materials are available at local home centers – artificial flowers section. I bought mine at Landmark, Makati (Philippines). Foam boards are available at your local school supplies.
We have a little zen garden at home so I borrowed a few stones to complete the set. I made sure that the artificial plants aren't so big and should be Nendoroid/Cu-poche scale.
The 'Engawa'  (Japanese porch)
Materials:
Popsicle sticks
A long strip of sheet wood
cardboard
glue
wood stain (for a natural finish)
I cut popsicle sticks according to the size I want and glued them on a cardboard.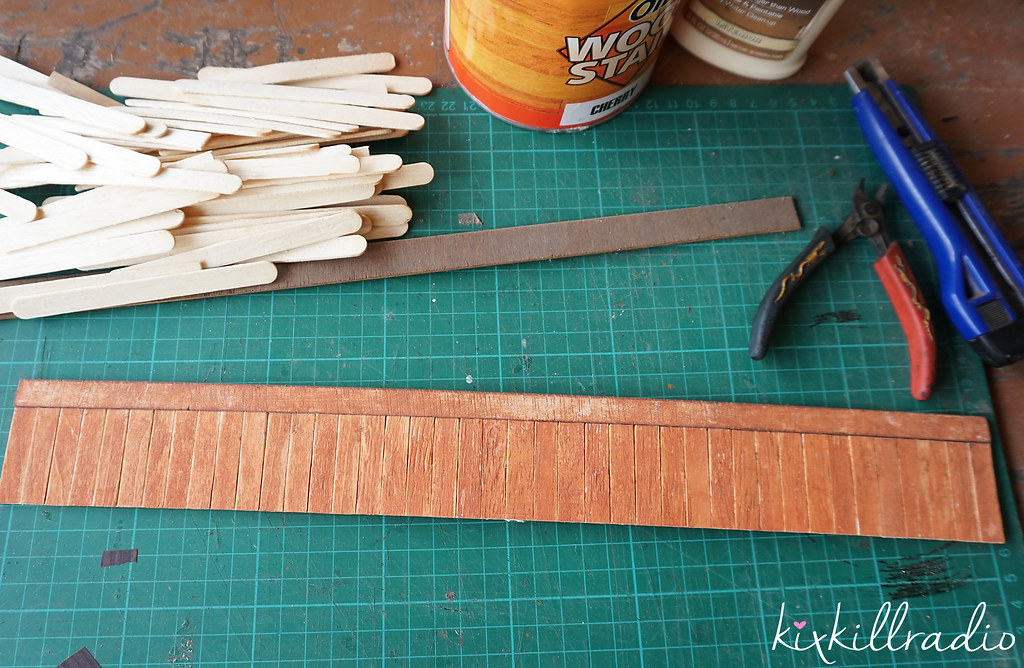 'Engawa' is the perfect spot for my Nendoroid to eat their watermelons during summer or sip their favorite tea in spring time. I attached this part to my already-made Japanese room.
The Roof
Because I don't have much time left, I had to look for various materials that would work for my diorama set. I found this big bamboo mat from a local Japan surplus and used it as a roof.
I think it looks good enough for the display.
To those who haven't seen this Japanese room before and wondering where I bought it. FYI, this was all hand-made and detachable. The reason behind it is so that I can bring it wherever I want or use the materials or parts for future projects. You might see this again in my future shoots but may be slightly different.
The material used for the wall was sheet wood that is covered with furniture sticker. I chose a sheet wood or thin ply wood so I can re-use them.
DIY Tatami mat (a present from a friend from Japan) for the floor.
Final Result:
That's all for today. I hope it gave you an idea for your future projects. 🙂