Have you guys watched Toaru Kagaku no Railgun S? I just finished watching the anime a couple of nights ago and I really enjoyed it. It makes me love Mikoto Misaka and her friends even more.
Today, we are taking a look at Cu-poche Misaka Mikoto by Kotobukiya. If you are a fan of BiriBiri and love the series, then she's a great addition to your collection. I wish they will make Shirai Kuroko with pervy face too, I'm sure it'll be fun to play and take pictures of the duo.
Thank you Kotobukiya for sponsoring this super cute Misaka. You can also find these photos on their Facebook page.

Misaka comes with 3 face expressions -shy face, normal, and winking face. An iron sand sword, teddy bear, electric effect and railgun effect are also included. There's an extra hair accessory which has a flower design to change her regular hair pin.
There are different sets I made for Misaka's photo shoot. The first one is a little girl bedroom and a battle scene mode. I enjoyed working on the battle diorama, since I based it from one of the scenes in the anime.
Mikoto Misaka love Gekota, however I couldn't find any other gekota in the web so I googled kawaii frog images and found Tsuginohi Kerori. Credits to those who owned the kawaii artwork.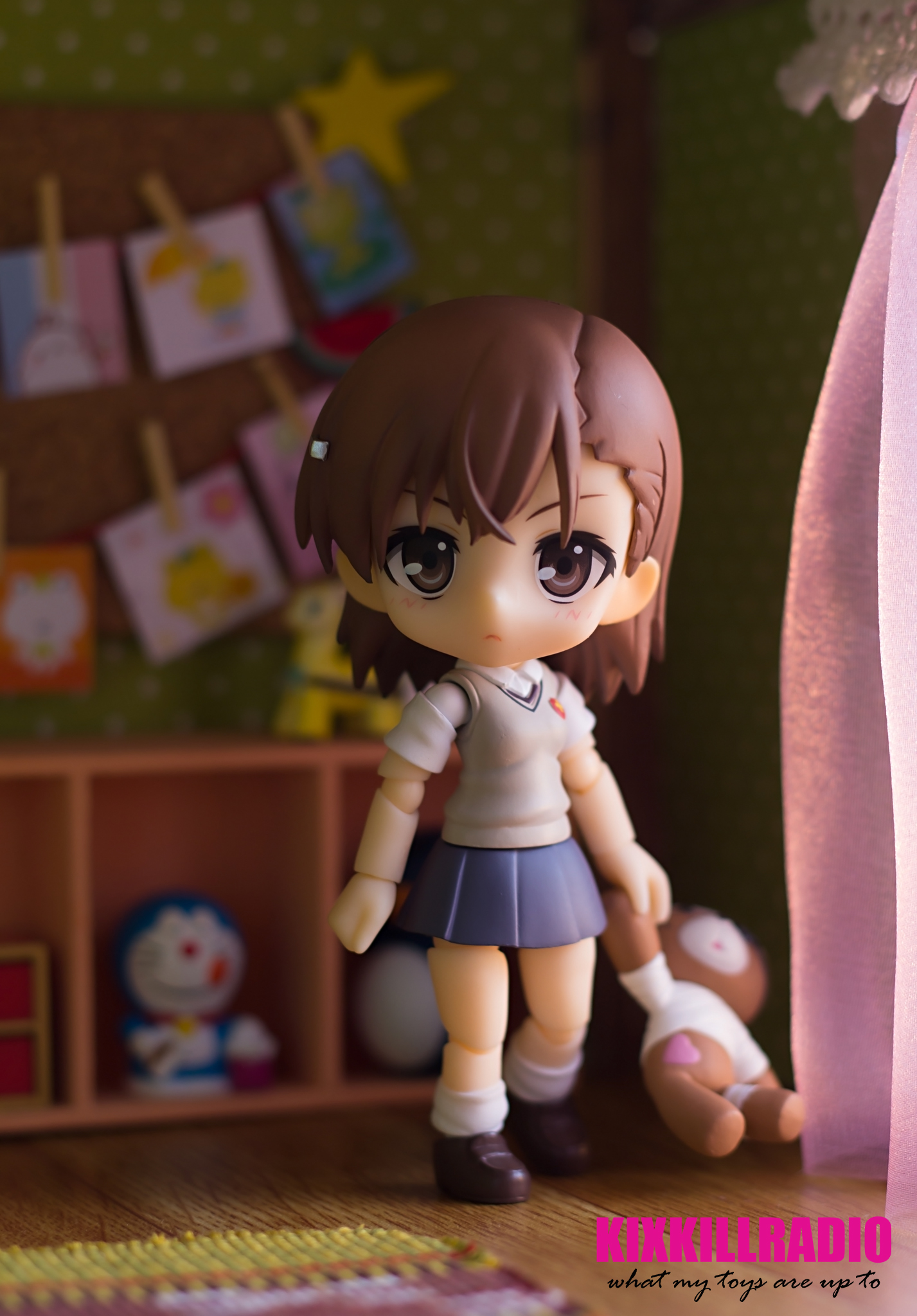 Heading out
I used Kirino Kousaka's face expression in the scene where she got the very hard to get Gekota pin.
Overall, Kotobukiya never fail to amaze me with the articulation of their Cu-poche figure. I love how I can pose her without using the base and stand or any of my tricks to stand alone. It'd be awesome if she has an extra flowing hair for a dynamic pose.
With growing number of Cu-poche in my collection, I was able to use some of the face expression in this photo set. Some of them are from Tsukiko, Kirino and iDOLMASTER's Yukiho and Haruka.
You can still get this adorable Cu-poche figure at Kotobukiya Store.
That's all for today guys, I hope you enjoyed this set. I'll see you on my next post! ^_^