Halloween is just around the corner and here comes the cutest vocaloid diva to pump up your Halloween this October, Good Smile Company's Nendoroid Hatsune Miku Halloween Ver.
I'm one of the lucky ones who got her in advance for figure photography and I am so excited when Good Smile Company announced her earlier this month. I wished for it and they granted it. There are ideas running in my head on how I will going to take her photos and I didn't really expect that they will be sending her. Thank you Mamitan and Good Smile Company! I am so loving my wonderful hobby life.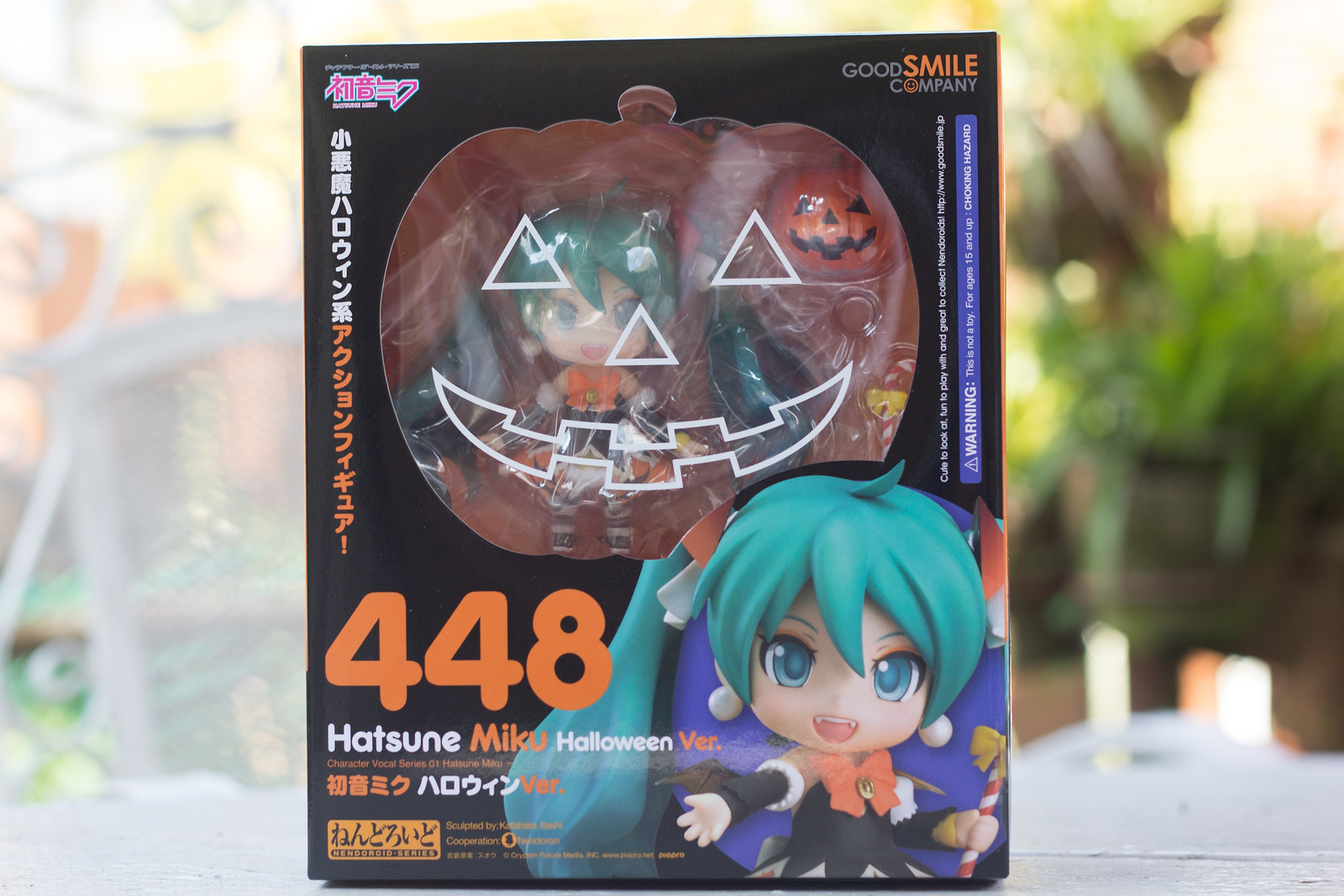 Nendoroid Halloween Miku comes with standard smiling expression, sneering expression and special pumpkin face. To add more touch of Halloween in this cute nendoroid, she comes with Jack-O-lantern and candy. Wings and optional hand parts are also included. I really like that Jack-O-Lantern accessory, now it would be a lot of fun doing Halloween-themed nendoroid photography.
In today's photo set, Hatsune Miku will be hosting a party. The room is Halloween-inspired, I used Nendoroid Dead Master's skulls, printable bats and banners and decorated cupcakes for a Halloween Party look.
Welcome to Miku's Halloween Party!
Nendoroid Hatsune Miku Halloween Ver is such a cutie, she's dressed up in the image of a pumpkin. Her outfit is beautifully designed with laces and ribbons, and a touch of sweet and sexy eyes. Those vampire teeth and orange eye shadow bring out the adorable and fun side of Miku in this costume.
Does she look scary? I think the special pumpkin face is cute though. It is fun for Halloween prank. 
Look at those sexy eyes..
Such a cute and sexy little devil.
She is definitely one of the cutest ever Miku nendoroid and I think you should get her too.
Levi doesn't seem pleased with his costume. :3
I'll be taking more photos of Nendoroid Halloween Miku soon. Watch out for it!
For more details of this sweet and adorable Nendoroid Halloween Miku check out the link:
http://goodsmile-global.ecq.sc/top/gscnenwd00448.html
You can purchase her on the following:
■ USA: Los Angeles MIKU EXPO 2014: 2014/10/11 ~ 2014/10/12
Event Price: $45
Event Details: http://event.goodsmile.info/event/event-2029/
■ USA: New York MIKU EXPO 2014: 2014/10/17 ~ 2014/10/18
Event Price: $45
Official Site: http://mikuexpo.com/ny
■ USA: New York Comic Con: 2014/10/9 ~ 2014/10/14
Event Price: $45
Event Details Coming Soon!
■ GOODSMILE ONLINE SHOP: Orders open from the 25th September at 12:00JST.
http://goodsmile-global.ecq.sc/gscnenwd00448.html