Today we are taking a look at one of the funniest character and my favorite in the popular series Kill la Kill, Nendoroid Mako Mankanshoku by Good Smile Company. Who wouldn't like her? She has the most creative and comical expressions ever! I missed Mako's pre-order months ago and I've been looking for her in local stores but failed to find one with good price. I almost gave up until last December, my boyfriend surprised me. I didn't know that he bought it for me. I'm so happy!! I feel like I'm wearing Mako's face when I received it from him. 😀
Mako Mankanshoku is hyperactive, lazy (remember how she falls fast asleep when class just started) and a good friend to the main protagonist in the series, Ryuko Matoi. She can be hardworking and properly motivated. She even showed how professional she was during the battle in the last few episodes of the series. Nendoroid Mako Mankanshoku comes with her famous comical expressions including the standard face, smiling, serious and sleepy face which is by the way my favorite. If you have Nendoroid Ryuko Matoi it would be fun to recreate some scenes from the anime. Also included in the box is the Mankanshoku family pet dog, Guts. Optional hand parts and a bendable arms to make weird poses just like in the series are also included.
Unfortunately, I don't have Ryuko-chan and Satsuki Kiryūin Nendoroid for Mako-chan to play with. I chose not to buy them as I am keeping my promise to just buy/keep the most favorite figure or else I'll be drowning from my figure boxes in my room in no time. I based the room from Mankanshoku's house, I don't have a round table though so I just used my mini table.
Itadakimasu!
Playtime with Guts.
Guts won't stop tickling Mako-chan.
Let's do the Homework!
Guts: Okay, I'm just going to eat this.
Guts wants Croquettes!
I'm home!
NOOO! Don't eat that Guts!
Jenga Fun!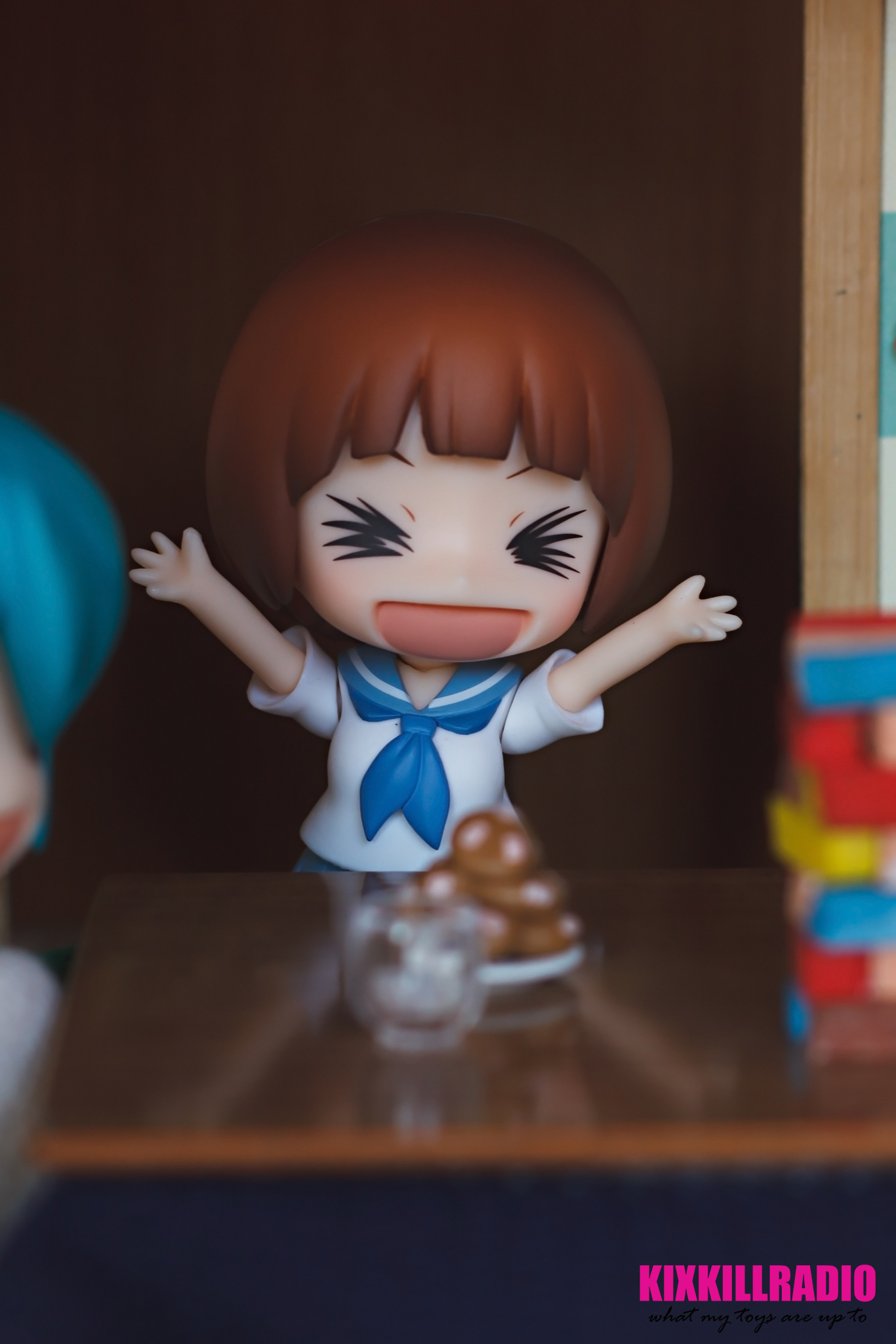 Nendoroid Hatsune Miku 2.0 and Nendoroid Hakase also dropped by to join Mako-chan. Thanks for checking out everyone! See you next week! ~ヾ(^∇^)